The aviation industry is one of the leading sectors in the United Kingdom. This is one of the sectors that contributes highly to the growth and development of the economy. Over the years the traveling interest of people has increased significantly which has helped companies to grow and develop steadily. It is important to note that the constant increase in traveling interests of people has given birth to new and effective aviation business plans. When earlier British Airways was one of the key passenger carriers in the UK then companies like Easy Jet and Wizz Air have captured the market to a large extent. From the low cost airlines to the premium airline services UK airline industry is one of the most active airlines industries in the world with a total global market share of nearly 1% (Khan, Serafeim and Yoon, 2016). There are number of different airlines companies like Ryanair which has already gained significant market share in UK which shows that the definition of flying has also changed among the consumers. The UK airline market is clearly highly competitive with different numbers and types of organisations competing against each other. The biggest rivalry at this point of time being between Ryanair, British Airways, and Easy Jet and Wizz Air has shown the importance of this market. Different kinds of customers could be seen in the market presently where most of the people are traveling for business and some for leisure but the recent trend that has taken over the airline industry is the concept of low cost airline which has attracted a number of people to believe in companies like Easy Jet and Wizz Air (Chang et al., 2015).
Organisations have different motives to operate in the market but most of them operate with profit motive. It is extremely important for each and every organisation operating with profit motive to achieve their financial goals which would help to ensure success in the long run. Most of the organisations in the current market environment fail to understand the fluctuations which really affect their business strategy and hence lead to their downfalls (Casado-Díaz et al., 2014). Since, most of the industries are highly competitive nowadays it is important for the organisations to keep a track of their operational activities and constantly assess what could be done better. One of the effective tools to retrospect on the performance of an organisation is the annual report that is developed keeping in mind the various fields of operation and putting the right information for the stakeholders to learn (Tavassoli, Faramarzi and Saen, 2014). The annual report acts as a mirror for the organisation as it highlights the key achievements in the field of finance, stakeholder management, corporate governance et cetera. This also helps the organisation to make its future strategies accordingly. The present comparison helps to analyse two low cost and similar service providing organisations namely Easy Jet and Wizz Air.
Europe is not only important from political perspective but it is also extremely important in terms of business. The European market is effective for a number of sectors and Airline is one of them. Over the years companies like British Airways have dominated the European market but with the new trend of low cost airline services British Airways have lost a part of its glory. Emerging organisations like Ryanair, Easy Jet and Wizz Air have encashed on this situation of changing interest. From the present market statistics Easy Jet and Wizz Air are at loggerheads given the similar situation that they are in whereas Ryanair has grown to a bigger stature hence, it could be said that the trend of low cost airline has already brought a new wave which is clearly changing the course of the business. Apparently there might seem a number of similarities between Easy Jet and Wizz Air but they differ in number of aspects (Chang et al., 2015).
There are number of key aspects which have to be discussed in this case and hence, the first parameter of comparison that is taken is the time of existence of both these organisations. Easy Jet came into being in the year 1995 whereas Wizz Air is comparatively younger as it started its operation in the year 2003. Easy Jet since then has expanded to 136 destinations whereas Wizz Air has already crossed that mark to send its fleets to 141 destinations. Hence, in this segment the latter is already ahead. In terms of fleet size Easy Jet is a tad ahead with 319 fleets but given the lesser time Wizz Air has operated in the market it is likely to catch up with easy jet.
The main aim of Easy Jet is to provide the consumers with reliable point to point air services and create value for the consumers. The organisation has been able to create reliability through its standardised and timely air services which clearly makes it one of the leading low cost airline services across Europe. The organisation has so far acted on its mission and objective that is to attract more and more people through its easy low cost business model and reliable services. On the other hand Wizz Air's aim is to focus on innovation mostly and to deal with the market competition with the help of affordable flying service for the consumers. One of the major differences between these two organisations so far is the aspect of reliability. Easy Jet has been able to work this aspect properly with timely flight services whereas Wizz Air has had its problems with flight timings in the recent past, but the organisation strives to focus on innovation with its product offering and real low cost service system that helps it to enjoy upper hand in the market (De Boer, 2018). Hence, it could be said that both the organisations are more or less in the right track in terms of growth and development aspects. However it could be said that Wizz Air is ahead in terms of providing services to different routes as it offers flights in around 500 routes where Easy Jet is still behind. The organisation Wizz Air offers some unique destinations like Kazakhstan whereas Easy Jet is focused on Southern Europe mostly. Hence, Easy Jet could expand its business in the Eastern Europe (Khan, Serafeim and Yoon, 2016).
The financial performance of an organisation clearly shows the positive or negative movement of an organisation in the market hence, it is extremely important to analyse how both Wizz Air and Easy Jet work on their financial performance. The financial performance of Easy Jet and Wizz Air are given below: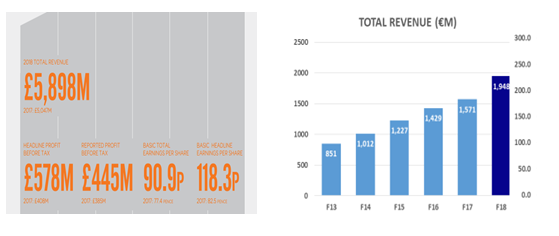 Easy Jet Revenue 2018 Wizz Air Revenue 2018
According to the above figures it is clear that Easy Jet has been able to generate more revenue as compared to Wizz Air. To be precise Easy Jet has been able to generate an amount of £ 5,898 M on the other hand Wizz Air has managed a total revenue of £1948 M in the year 2018. It is extremely important to note that since the organisation Easy Jet has more flights operating with a strong capital as compared to Wizz Air the level of total revenue is higher. It is important to remember that Wizz Air is comparatively a younger organisation starting its operation after 8 years to that of Easy Jet. It cannot be denied that in order to compete in this highly competitive market environment it is important for a low cost carrier to constantly analyse its loopholes which would help the organisation to make effective strategy at the end. The fares are cheap to a large extent which could be another reason for lower gross profit of the organisation Wizz Air. As compared to Easy Jet or Ryanair Wizz Air cut their prices that effectively put them in the front seat for long term competition (De Boer, 2018).
The share prices are largely attached with the financial performance and it also shows the faith and belief of the investors on each of the organisations.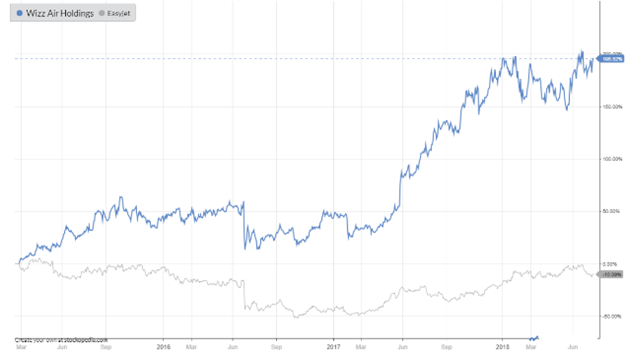 Fig 3: Share Price Fluctuations (De Boer, 2018)
As per the above picture it is showed the present situation of the share price of both Wizz Air and the Easy Jet. The picture shows that since the floatation of the organisation Wizz Air the organisation has been able to up its share price significantly due to rapid expansion of the organisation and effective service as well. As per the result of 2016 the organisation Wizz Air has grown by around 135% in terms of share price whereas Easy Jet has just gained 42%. This is clearly the case of maturity versus introduction. Easy Jet is comparatively an older business which makes the sluggishness of the share price an inevitable case but the organisation should not be in a spot of bother as it has passed the introduction stage whereas Wizz Air was in the introduction stage for a long time and hence its rapid growth was expected and paired to with excellent service it has been extremely effective for the organisation (Dai, 2018). There are number of issues which should be considered in this regards and one of the major issues being Brexit. The organisation Easy Jet is directly affected by the referendum because it is a UK business whereas Wizz Air is likely to get less affected because it is comparatively a new organisation and given its lower costs and less legal implications would be positive for the organisation (De Boer, 2018).
In terms of performance it is also important to note that one of the major differences that Wizz Air has with Easy Jet is that the latter focuses on bigger and major destinations like Paris or Madrid whereas the former has also focused on smaller cities yet important places like Zagreb, Tel Aviv, Riga et cetera. This clearly fetches the income as well as develops the market awareness for a new organisation like Wizz Air (Walulik, 2016).
The product and services of both the organisations are more or less similar in nature. Both the organisations provide low cost air service which includes effective on time flights and better luggage treatment. In this case to compare it could be said that Easy Jet is ahead of Wizz Air in terms of on time flights because it has an excellent networking and infrastructural support whereas Wizz Air has failed in some cases to provide on time flights. For this reason Wizz Air also has on time guarantee flight which would help the organisation to focus on providing on time services to the consumers. The 10 EUR ticket of Wizz Air guarantees to compensate back if the flight gets delayed which is not there in Easy Jet because it focuses on doing the job in the best possible manner. Unreliability is one of the major issues in air service sector hence, at the present moment it could be said that Easy Jet is comparatively ahead of Wizz Air in this segment (Eriksson and Steenhuis, 2015). The luggage scheme of Easy Jet is also effective as it provides free luggage based on certain calculations whereas Wizz Air is yet to come up with something like that which is another area of improvement for the organisation. In flight services includes food and drinks services which are served by both the organisations. The prices for food or drink range from 2 euro to 6 euro which clearly shows there are hardly any difference between their approach in terms of food and drinks, but to scrutinise the services it could be said that Wizz Air is slightly ahead of Easy Jet as a can of beer could be bought for around 5 EUR whereas its 6 EUR in Easy Jet. Among the European Airlines Wizz Air has the second lowest cost per seat available which is likely to provide higher competitive advantage for the organisation (Van de Voorde 2015).
In terms of Employees Wizz Air have around 3700 employees working around the globe. As of 2017 total number of employees carried by Easy Jet is around 12,800 that is way bigger than the former organisation. It is important to note that Wizz Air is comparatively smaller and hence the strength. It cannot be denied that Wizz Air is one of the fastest growing organisations in the Europe and so they shouldn't be concerned about the number of staffs. What stands to be important is to analyse the stakeholders who are directly related to these organisations. Both these organisations receive consumers from business fields and leisure which clearly but people looking to enjoy tourism are looking for Wizz Air to get the travel done at an affordable rate which clearly justifies the increase in number of passengers for the organisation. Both these organisations have the right mix of skills, experience and talents hence, they are able to face challenging times (Burghouwt and de Wit, 2015).
Another major point that needs to be discussed in this case is customer communication and digital service. Easy Jet has become one of the leading low cost airlines because the organisation has been able to communicate with the consumers through the various online mediums which are extremely important in the modern day scheme of things. Easy Jet has excellent online presence. The website is an extremely effective way of communicating and selling products and services. Easy Jet has succeeded in developing a strong online infrastructure that helps consumers to make online bookings and communicate with the customer service associates whenever required to get essential information. On the other hand Wizz Air has a long way to go to develop a strong online infrastructure. Consumers have faced issues to access Wizz Air website from different browsers and glitches have worsened their experience which has been a problem for the organisation (Akgüç, Beblavý and Simonelli, 2018).
Apart from that communication is not that frequent with consumers through social media which is also extremely important in the present day market (Van de Voorde 2015). Apart from that Wizz Air needs to reduce its flurry of complaints that have created negative brand image for the organisation where Easy Jet has encashed on its excellent consumer relations. Another major issue that one faces at Wizz Air is their up-selling process. The organisation has a bad strategy for upsell which clearly disinterests the consumer. Easy Jet is extremely transparent in this case which clearly helps the organisation to get better footfalls (Van de Voorde 2015).
Wizz Air is still expanding its market and mostly flies into the smaller airports which most of the time is extremely tough to get to hence, when a customer is interested to buy products or services from the organisation he or she has to cross check the system or else it is really difficult to get to the airport. Easy jet even though comparatively older to the former organisation has better services and access for the consumers which provides upper hand to the consumers (Akgüç, Beblavý and Simonelli, 2018).
Finally it is important to compare corporate governance issues of both these organisations. Corporate governance could be defined as the regulations which help an organisation to perform their duties and maintaining a perfect balance between the organisation interest and the interest of stakeholders. Corporate Governance is an extremely important aspect for a business that works all across the globe and especially those who deal with stakeholders. Corporate governance includes effective control over the social, environmental and financial aspects associated with the business. Both the organisations strive to improve their corporate governance through effective communication and execution of strategy for better relationship. When Wizz Air strives to execute their corporate culture in the governance then Easy Jet is focused on developing effective culture for each of its separate departments (Akgüç, Beblavý and Simonelli, 2018). Here it could be argued that having an overall corporate culture operating in the organisation and among the internal and external stakeholders helps the organisation to operate effectively because of its universal considerations then developing cultures for individual departments are not without negatives because it is not only time taking but it also becomes tough for the employees to imbibe the values and morals faster. Hence, it is extremely important that Easy Jet looks for better and flexible culture and approach to corporate governance. Easy Jet's positive is after an excellent last financial year and a significant growth the organisation has announced an increase of 43% in the dividends which is likely to strengthen the bond between the investors and the organisation. On the other hand Wizz Air has also succeeded in increasing its business in the last five years or so but it doesn't believe in announcing rapid increase in dividends and rather sticks to slow and steady movements of increase which is a "wait and watch" approach which also has its negatives as the investors might make reckless decisions to leave the organisations (Zhang and Gimeno, 2016). Both the organisations believe in a clean and transparent reporting approach which has helped the organisations to communicate with the stakeholders. The quarterly and annual meetings with the stakeholders especially with the investors help to largely make amendments. Easy Jet has also tried to be ethical in its operations by reducing carbon emission and contributing to environmental developments. Wizz Air is not that active in CSR practices but it is playing its part to contribute to the environment. Easy Jet performs really well in consumer health, wellness and safety but performs poorly in water conservation and pollution prevention but it is rated highly in terms of corporate governance practice due to its clean and transparent reporting practices. On the other hand Wizz Air has been effective in maintaining consumer health and safety but has failed to reduce carbon emission and has fared well in workplace safety and pollution prevention through effective disposal of waste and proper treatment of waste (Burns and Cowlishaw, 2014).
To conclude it is to be stated that both the organisations possess positives and negatives as well. Even though the organisations are moving in the right direction in terms of business it is important for them to develop a strong strategy to improve corporate governance and financial performance. First of all it is extremely important for Wizz Air to develop strong strategic plan which involves extensive promotional campaigns which would help to compete with Easy Jet especially in the southern and western regions of Europe. On the other hand Easy Jet should expand its destinations effectively in Eastern Europe to generate higher revenue and to improve the financial performance. Both the organisations need to emphasise more on a strong Corporate Social Responsibility plan which would help to take into account all the key aspects of corporate governance and ethical practice.
Akgüç, M., Beblavý, M. and Simonelli, F.,(2018). Low-Cost Airlines: Bringing the EU closer together. CEPS Research Report, CEPS.
Casado-Díaz, A., L. Nicolau, J., Ruiz-Moreno, F. and Sellers, R., (2014). Industry-specific effect of CSR initiatives: hotels and airlines. Kybernetes, 43(3/4), pp.547-564.
Burghouwt, G. and de Wit, J.G., (2015). In the wake of liberalisation: long-term developments in the EU air transport market. Transport Policy, 43, pp.104-113.
Burns, P.M. and Cowlishaw, C., (2014). Climate change discourses: how UK airlines communicate their case to the public. Journal of Sustainable Tourism, 22(5), pp.750-767.
Chang, D.S., Chen, S.H., Hsu, C.W. and Hu, A., (2015). Identifying strategic factors of the implantation CSR in the airline industry: The case of Asia-Pacific airlines. Sustainability, 7(6), pp.7762-7783.
Chang, Y.T., Park, H.S., Jeong, J.B. and Lee, J.W., (2014). Evaluating economic and environmental efficiency of global airlines: A SBM-DEA approach. Transportation Research Part D: Transport and Environment, 27, pp.46-50.
Dai, X., (2018). The digital revolution and governance. Routledge.
De Boer, E.R., (2018). Strategy in Airline Loyalty.
Eriksson, S. and Steenhuis, H.J. eds., (2015). The global commercial aviation industry. Routledge.
Khan, M., Serafeim, G. and Yoon, A., (2016). Corporate sustainability: First evidence on materiality. The accounting review, 91(6), pp.1697-1724.
Tavassoli, M., Faramarzi, G.R. and Saen, R.F., (2014). Efficiency and effectiveness in airline performance using a SBM-NDEA model in the presence of shared input. Journal of Air Transport Management, 34, pp.146-153.
Van de Voorde, E., (2015). The future of low cost airlines and aiports.
Walulik, J., (2016). Progressive commercialization of airline governance culture. Routledge.
Zhang, Y. and Gimeno, J., (2016). Earnings pressure and long-term corporate governance: Can long-term-oriented investors and managers reduce the quarterly earnings obsession?. Organization Science, 27(2), pp.354-372.